Get Out of Here!
Today was an amazing day. Nothing particularly special happened, and in fact it rained, but I still felt the residual effect of this weekend's Rotary outbound orientation in Kurashiki. The downside of the awesome weekend is that it came at the worst time blog-wise, with about three blogs that need to be published before I can properly expound the craziness which insued. So I will first take you back to last weekend, at Jittan and Andee's going away party.
The location was Shoko's house, the usual party location. I invited Yuudai and Nakkan from school, along with Neil and Sam (the local english teachers). Shoko called all her older japanese friends and Chinese teacher who came with his wife (who flew in from China, not specifically for the party). About everyone who had known Andee or Jittan from Tamano attended. That may appear to be a calm, reclined crowd but if you had been present you would know otherwise. A large assortment of foods were prepared by Jittan, Shoko, the Chinese teacher and his wife, and other members in the house for consumption at the party. Miyu was also in town from Kobe so I got a change to speak with her in Japanese she could understand. She leaves on a few days for Washington state as an exchange student for a few months. So if you're going to be in the Washington state area, let me know.
The party was a free for all, with Lost in Translation and equally exciting music playing in the background. After a few hours, I decided to give Jittan and Andee their big surprise, a live rendition of Guitar Zamurai. Guitar Zamurai, for those who don't know, is a very famous comedian in Japan who plays a guitar, wearing a kimono, and makes fun of people. Like a musical Triumph the Insult Comic Dog (some people will not know who this is, either) When I first came to Japan, Jittan told me Guitar Zamurai was her favorite comic, and while I couldn't understand a thing he said she died laughing. Instead of trying to explain what sort of comedy he does, I'll upload the video.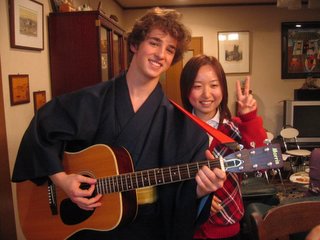 Caution!! very large and temporary video file (33MB)
Guitar Zamurai
download for this short time only!
I wrote the lyrics myself, with some help from my host brother to make it more understandable and funny. Also thanks to Jirou sensei for showing me the guitar zamurai guitar chords. All the Japanese people at the party thought it was great.
After the party began to wind down, Neil struck up a large game of cards. He is a massive card fan, and is in fact starting a weekly potluck dinner and card night for anyone interested. Music was played, cards were dealt, and people danced until the wee hours, when only Andee, Jittan, Neil, Shoko, and myself were left awake. Someone put on Cold Mountain (Shoko is a big Jude Law fan. But hey, who isn't?) and Neil left after the movie was over. Andee then gave us parting gifts of Malaysian clothing which seemed like an excellent thing to try on at 5 in the morning.
Everyone went to sleep for a few hours, then woke up for a traditional japanese lunch of party leftovers (so much better than cold pizza). We played cards and Nintendo Mario Party until that evening. Andee's host family took Jittan, Andee and I to a very fancy japanese restaurant in Uno. Andee's host sister and father argued about colleges (she wants business, he wants language) which was humorous to watch and soon involved everyone at the party. The food and drink were delicious and I felt plenty stuffed after 40 hours of continual eating. Everyone then went back to their respective houses, but the party was not over yet.
Andee, Jittan, and I met in Okayama the next day to go to Aeon (pronounced Ion), a large shopping mall in Kurashiki. We laughed, shopped, purikura-ed, and ate large pieces of cake for dinner. We also watched a movie, Howl's Moving Castle, which is the next movie in the Ghibli line of films including Spirited Away, Lapita, and Totoro. Expensive at $15 but well worth the movey with candy and drinks snuck in from a department store. To top off the three days of craziness, my mind was blown by finding a very inexpensive MIT sweatshirt at the mall. Other choices included Boston University, Texas A&M, and the seemingly out of place University of Southern Georgia.
Back at Okayama, Andee and Jittan said goodbye to each other for the last time at the train station, a very sad and strikingly movie-like display. Walking backwards and waving, time moving slowly. We may have only been together for a short while, but we had some great times (cliche trademark, ding!) And thus the going away party drew to a close. Andee and I returned to Tamano to get some rest.